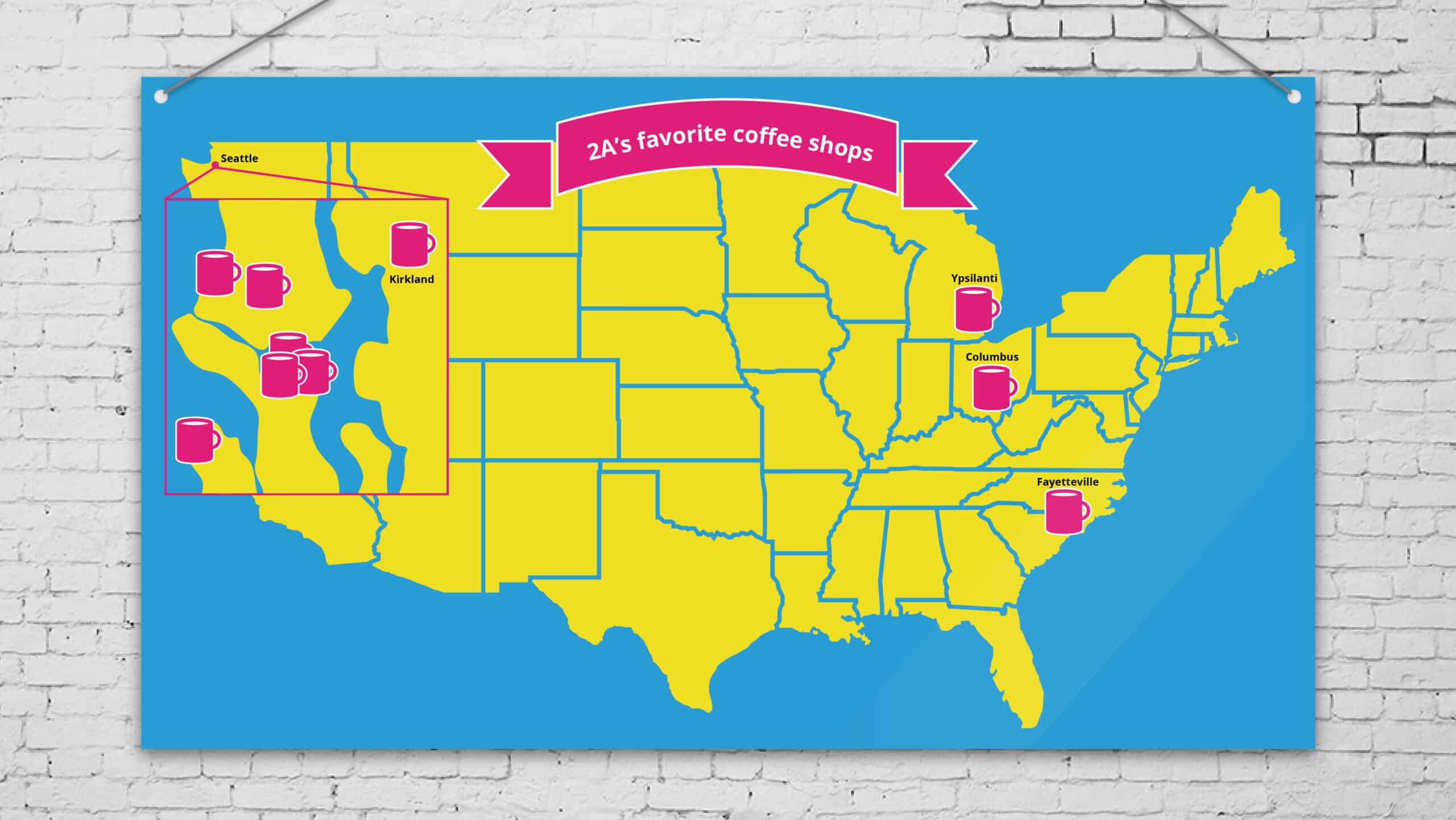 I look forward to coffee shops a little more as we head into fall, my favorite of the four seasons. Something about pants, a warm sweater or light jacket, and a walk to Ampersand on Alki Beach for a half-caf Americano with one cream and one sugar. And on the weekends, I treat myself to the homemade biscuit, egg, and bacon breakfast sandwich. Battling the dad bod, I limit myself to one per week.
As we continue to face the challenges with COVID-19, we continue to support and enjoy our local coffee shops. Masks, takeout, outdoor seating. In fall, we get to enjoy the walk. Not too hot. Not too cold. A little exercise. A little coffee. Two wonderful things to keep you moving.
My local favorite is Ampersand on Alki Beach in West Seattle. I like the Kona beans, the chef's homemade biscuits, and any of the food he makes.
2A employees are in the Seattle area but also reach other parts of the country. Let's look at some of our favorite coffee shops from Seattle and beyond. Give them a try!
203 Degrees Fahrenheit (Kirkland, WA) – Cozy place to study, outdoor seating by a fire and fun specialty drinks like a Latte with Rachel's Lavender. – Tammy Monson
Alexandras Macarons and café in Capitol Hill (Seattle, WA) – Alexandra herself is super nice. The croissants are fresh-baked every morning – and if you catch 'em right out of the oven you will never look back. Plus, on Thursdays they have amazing pizza. So basically, good coffee and bread-based things, all I really need in life. – Guy Schoonmaker
I want to second Alexandras and say that their focaccia is the best! – Sarah Silva
Caffé Fiore in Sunset Hill (Seattle, WA) Granted it was the closest coffee shop I could walk to, but it is a cute little corner coffee shop at the top of the steps to Golden Gardens Park. It had delicious drip coffee and a variety of tasty treats. They have nice big Adirondack chairs out front that you can sit in and enjoy a pick me up. – Rachel Adams
The Coffee Scene (Fayetteville, NC) Indoor and outdoor seating, great coffee drinks, great snacks, and a bonus for hot Fayetteville – gelato! – Forsyth Alexander
Cultivate Coffee & Tap House (Ypsilanti, MI) An amazing place to work quietly on your own projects or meet up with friends from morning 'til night. My go-to coffee drink there was a black walnut latte, which I had not seen before and have not seen since. – Kimberly Mass
Fresh Flours in Phinney Ridge (Seattle, WA) Nourish with my fave granola, treat with a citrus-forward macaron, indulge in a green tea muffin, and caffeinate in all the ways. Ted and I are boring and just get Americanos. But I see people getting very fussy with their oat-golden-milks and… smells great. – Annie Wegrich
Kaladi Brothers in Capitol Hill (Seattle, WA) the vibes are amazing, the baristas are cooler than you will ever be, and the playlist is great. Very queer + trans friendly. Based in Alaska. – Annie Unruh
Luck Bros Coffee in Grandview Heights (Columbus, OH) Here's a C-bus local. Small-batch roasted coffees run by a serious coffee enthusiast. – Kelly Schermer
Espresso Vivace in Capitol Hill (Seattle, WA) My fav! It's just a coffee sidewalk bar focused entirely on making the best cup of espresso. – Daniel Schmeichler