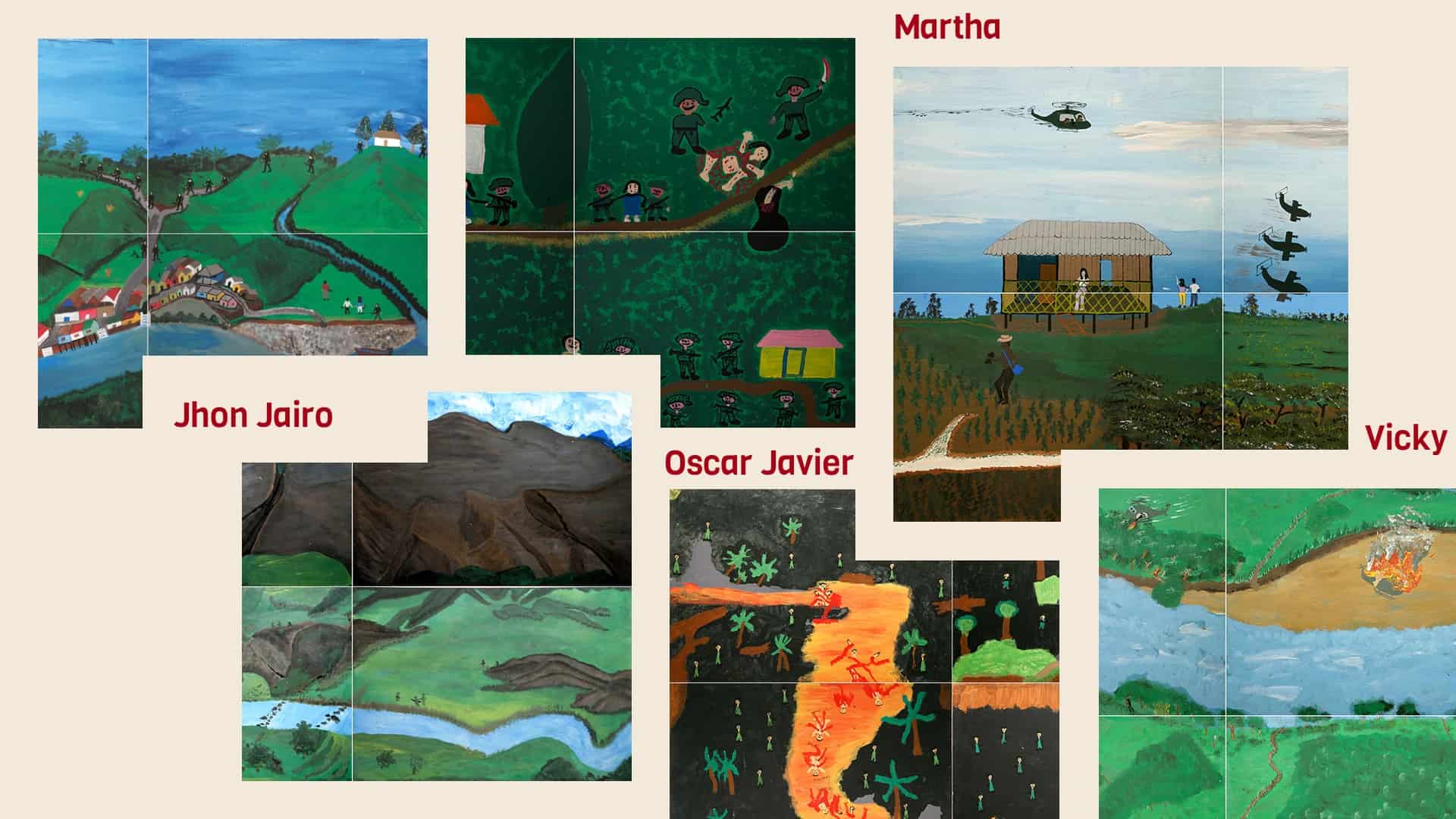 In college, I got a C in art history. I thought I appreciated art, but after that grade I told myself I was incapable of understanding it. That changed when I was introduced to the work of Juan Manuel Echavarría.
Echavarría and his team have created a significant body of work focused on Colombia's long-running, armed conflict. His art explores how decades of war has impacted rural communities and normalized violence.
Recently, 2A created an online gallery for La Guerra Que No Hemos Visto (The War We Have Not Seen). From 2007-2009, Echavarría, Fernando Grisalez, and Noel Palacios—as part of the Fundación Puntos de Encuentro—organized painting workshops for former combatants. Armed with wooden panels, vinyl paints, brushes, pencils and erasers—these ex-combatants painted their truths. The goal was not to teach them how to paint, but to give them a medium to share their war stories. The project includes 480 paintings from former members of the United Self-Defense Forces of Colombia (AUC), the Revolutionary Armed Forces of Colombia – People's Army (FARC-EP), and the Colombian Army.
Our aim for the website was to ensure the technology behind it melted into the background, and the design differentiated it from a colder, Chelsea-level gallery site by surfacing the humanity. And the artist-driven, cross-continental, complex nature of the endeavor presented some meaty challenges.
We worked with Echavarría and his team to select close to 100 paintings for the site, then wrangled names, bios, and painting synopses in both Spanish and English. We workshopped UX challenges—how do you handle navigation for a multi-lingual site? how can we best connect related works? how do we let viewers zoom in close enough to see the finest painting details on mobile? We wrestled with the site structure, landing on an experience that let artists, curators, academics, students, writers, and regular old C-in-art-history folks like me find a way in to the work.
The result is a site that invites us to look darkness, terror, and unimaginable loss in the eye. The stories had me in tears more than once, feeling absolutely gutted. But the work documents memories that shouldn't be forgotten, giving voice to those who have been silenced. As a team of storytellers, we're honored to help Echavarría share it with the world.