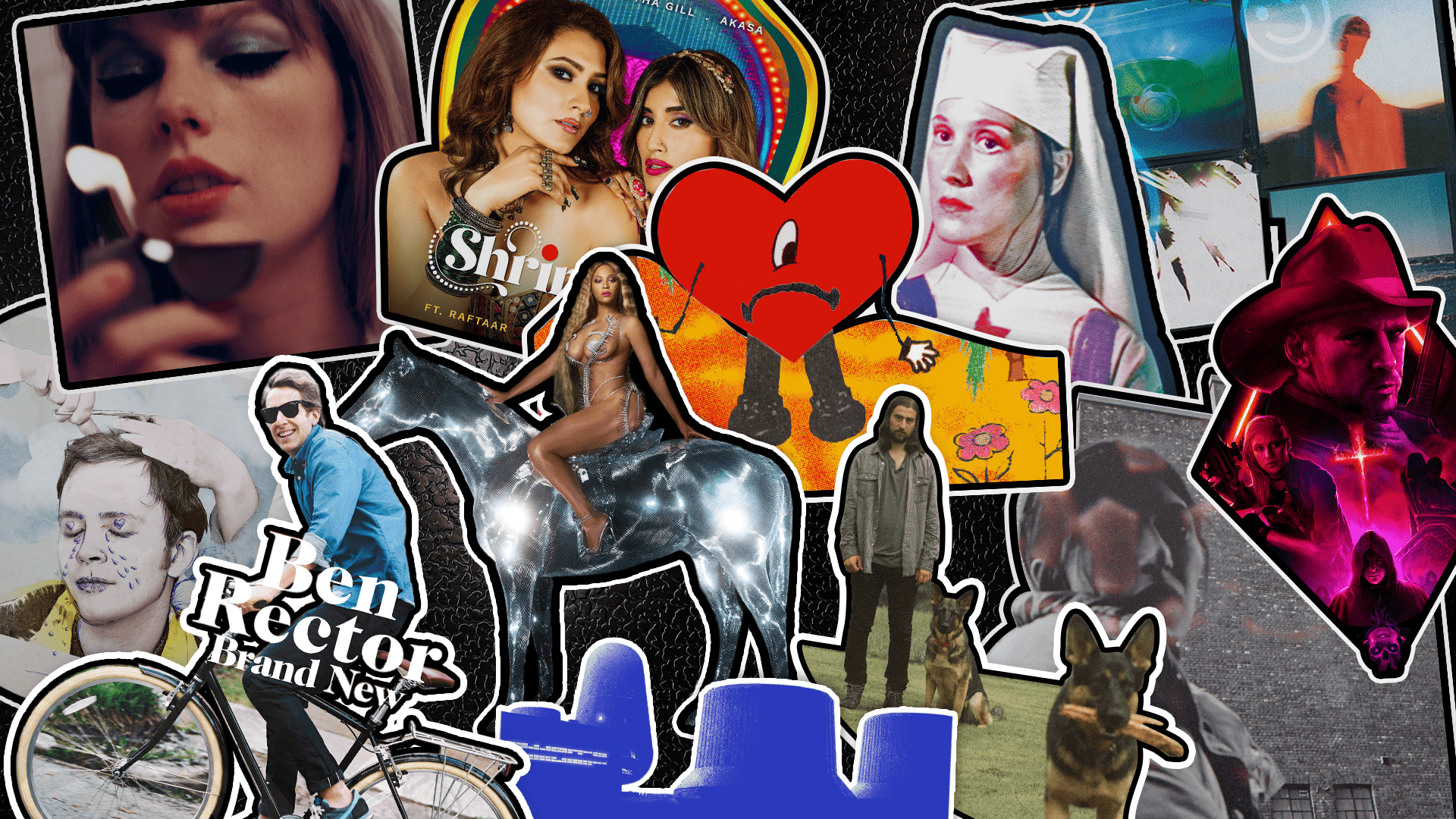 For the last few weeks, I've been looking forward to asking my coworkers to send me their favorite album of 2022 so I can assemble our annual round up. There's something special and even intimate about hearing what songs have been keeping your colleagues company all year long. While I love working from home, I miss the casual interactions that happen in an IRL office, especially conversations about books, TV shows, movies, and music. The album round-up allows me to learn something new about a coworker I wouldn't otherwise find out—and follow-up music chats are par for the course.
Sometimes a coworker's choice is a delightful surprise, and sometimes their pick feels perfect…as if I should've known all along that Al is a Beyoncé superfan or that Erin has a crush on Jens Lekman.
This year we put together a playlist that highlights one song from each album. I hope you enjoy getting a glimpse into the music that speaks to your favorite 2A'ers soul (and strike up a musical conversation the next time you find yourself on a call with one of us)!
The Linden Trees Are Still In Blossom – Jens Lekman
I have a forever crush on Jens Lekman. This album is adorably awkward, semi-autobiographical, and a remix AND re-release of my favorite album of 2007, Night Falls Over Kortedala. It reminds me that our stories get more interesting and gain a new depth as we reflect on them with age. —Erin McCaul
Shringaar feat. Milind Soman (single) – Vayu, Raftaar, Aashta Gill, AKASA, Milind Soman
Catchy beat. Danceable. This single features Milind Soman in a music video after 27 years. What's not to love? —Richa Dubey
RENAISSANCE – Beyoncé
House music, celebrating black excellence, and Queen Bey… this album is sheer perfection! —Alyson Stoner-Rhoades
Pompeii – Cate Le Bon
I have never met a Cate Le Bon album that I didn't like, and Pompeii is no exception. Drenched in dreamy synths, sax and clarinet, Le Bon's pristine voice dances in the duality of light and dark, weaving through a lush musical tapestry that is both delicate and bold, angular and sweet, sad and hopeful. —Suzanne Calkins
Brand New – Ben Rector
I'm a sucker for song that tells a story. I frequently shed a lot of tears listening to many of Ben Rector's songs. —Tammy Monson
Midnights (3am Edition) – Taylor Swift
As exciting as Swift's rerecords have been, I am thrilled she dropped something totally new. The album is very self-reflective and has hit after hit! And the production stylings of Jack Antonoff are always a favorite of mine. —Julianne Medenblik
age tape 0 – Arden Jones
Youthful, angsty, ukulele. —Even Aeschlimann
Un Verano Sin Ti – Bad Bunny
Bad Bunny's latest album is a quintessential curation of different types of summer vibes. Swaggering pop and reggaeton anthems are supported by a reflective b-side with plenty of unexpectedly good features and even a call for Zumba! This record packed everything I love about Benito's cross-genre inspirations and is proof that good music requires no translation. —Madeline Sy
The Guest 2 (Original Soundtrack) – Various Artists
I love the 2014 movie The Guest, a devious genre-bender with a distinctive soundtrack that moodily mixed 80s goth rock and 21st-century synth jams. This April Fool's Day I was surprised with the drop of a soundtrack album for the nonexistent sequel! It's a lot of fun to imagine what the plot could've been by looking at the cover art and track titles, and this director-led "aural sequel" is a fascinating way to dive back into the movie's unique soundscape. —Thad Allen
Power Station – Cory Wong, Billy Strings
When all the heavy hitters get in the same room and make noise together the result is this album. Jam packed with riffs that are sure to go down in history for the modern funk jazz era. —Matt deWolf
Warm Chris – Aldous Harding
The tunes on Warm Chris are just the right blend of off-kilter and catchy for my taste. Her songs are playful, strange, and beautiful—fitting for someone who chose the name "Aldous" as their nom de plume (her real name is Hannah Harding). —Nora Bright
Stick Season – Noah Kahan
I once saw a tweet that said Noah Kahan is "country music for the East Coast." As someone who sort of lives in the country and once lived in New England, I can confirm that a) That is a rock-solid statement, and b) this album will hit home for anyone, no matter where you live or where you are from. —Emily Zheng